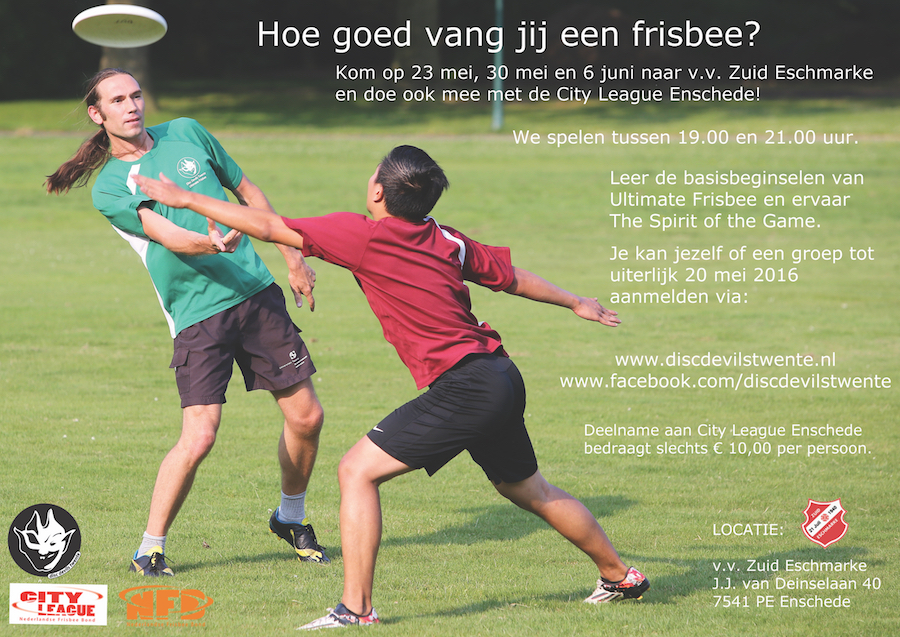 CITY LEAGUE ENSCHEDE 23 mei, 30 mei en 6 juni 2016
NEDERLANDS
City League Enschede is bedoeld om volwassenen kennis te laten maken met de fantastische sport Ultimate Frisbee. Je leert de basisbeginselen en ervaart The Spirit of the Game. Gedurende drie avonden speel je een klein toernooi met teams bestaande uit een mix van ervaren en onervaren spelers. De kosten bedragen slechts € 10,00 per persoon en dat is inclusief één gratis consumptie.
Meedoen is belangrijker dan winnen. Verder is het ook nog eens supergezellig! Gewoon aanmelden dus!
Aanmelden kan tot uiterlijk 20 mei via onderstaand formulier of facebook.
Wat heb je nodig om mee te kunnen doen:
– sportkleding (denk aan het weer)
– sportschoenen (met noppen heeft de voorkeur, maar niet noodzakelijk)
– fles met water
– goed humeur
ENGLISH
For those that don't know what the City League is: it is a small tournament of Ultimate Frisbee, mainly aiming at people who have never played Ultimate before (or perhaps have played during previous City Leagues). You can register as a team or as individual (you'll be put in a team). Each team will have at least 1 or 2 "experienced" players; if the team doesn't have an experienced player already, one will be provided by us. We aim to have 6 teams, we play 5-aside with regular (but laid-back) ultimate rules. The costs are € 10,00 each (one free drink included).
Playing is more important than winning. It's a lot of fun! Register now!
What do you need to participate:
– sportswear (think about the weather conditions)
– sports shoes (preferable with cleats)
– bottle with water
– good mood
Registering is possible until May 20th via application form below or facebook.
AANMELDINGSFORMULIER | APPLICATION FORM