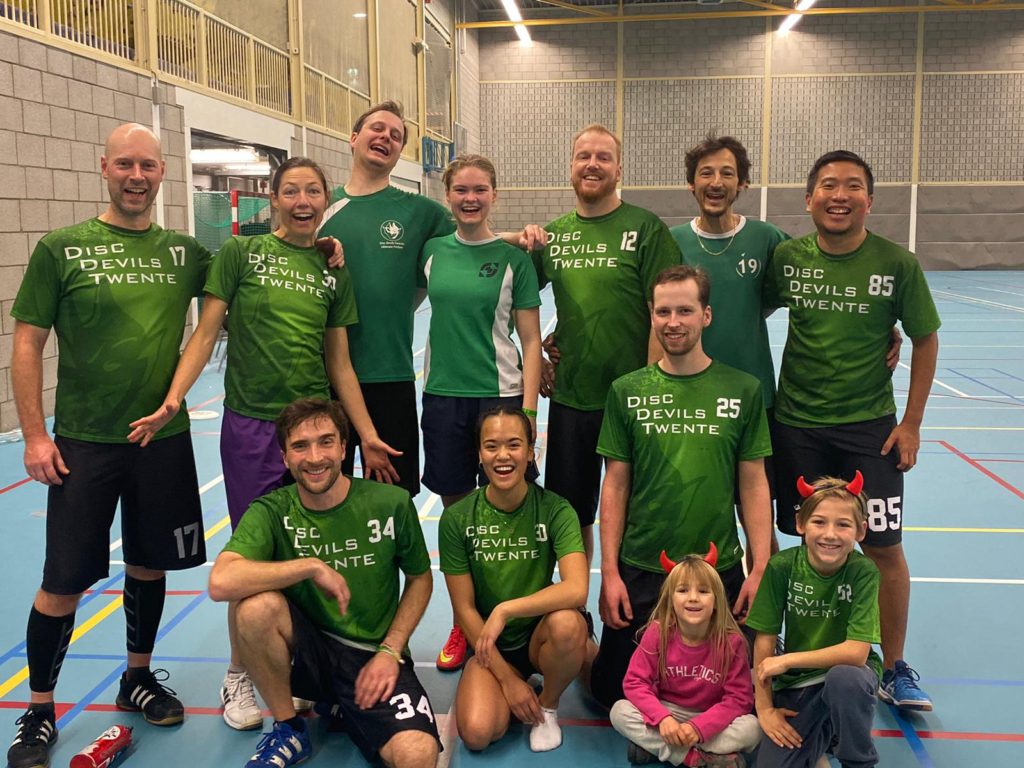 The 16th and 17th November, a bunch of DDT players went to the city of lights – Eindhoven, to see the glowing festival, Luis and Britt and, AND to play at LED 2019 indoor tournament!!
Hinderik's car (Enno, Kamille, Matthias, Rino and Hinderik!!) arrived first on Friday night at Luis and Britt's and went to have dinner before discovering the Glowing city. The Bertet's car arrived a bit later. They had picked up a mysterious visitor player on their way, Marcel! Yeaah!! Marcel and Steph still had time to be part of Friday nights' tour! Benoit stayed at Luis's place with our two wonderful supporters, score keepers and future Frisbee stars (tuurlijk!), Timotee and Mia.
The city was glowing and alive that Friday night. It was nice to see. However, with the help of Jesse we ended the evening in some obscure bars!
Jesse went on with the party, the rest of the team was reasonable and went to bed not too late to be up and ready for an early start on Saturday morning.
Luis and Britt's living room was "tidy" (at least without sleeping bag or mattresses) and people fed by 8:30! Time to rumble… and go to the sports hall for our first game.
Elisa was there, ready, as always.
Our first game was against Jop's team, Ultimate Glow, a pickup team full of national players. We took the lead at the start and manage to keep it (I think). The game was intense but good. It was fun. We won by two points.
Next was a Belgian team, the White Foxes. The game was also very intense and similarly pleasant. There were some discussions about lines but all got resolved with a smile…. and some more discussions!! The lead of the game was changing but at the end, the Foxes kept it and finally won by 2 points.
The third game was against team Tosti. We started the game well and were leading most of the game. But we gave some discs away towards the end; Benoit got injured; and we ended losing this one as well by one or two points. Well… It was time to have a small rest after this first pool but the day was not over, we still had 2 games to play!!
The two last games (Swamp Dragons and Pandas) were a bit easier and we won without frightening ourselves.
Finally at 6 (and some bananas, as we say in French) it was time to shower, have some beer(s) and food!… And get ready for the …. GLOW IN THE DARK party!! Mia couldn't wait for the party to start but after dinner the only thing she wanted was to go and enjoy her sleeping bag. Benoit, Timotee and Mia dashed before the beer race brilliantly run by Kamille, Enno and Matthias!
The party went on between the drinking card games, limbo, dancing and more… But what happened at LED stays at LED, isn't it?!
The good thing of Sunday morning was we only had to play at 9:45! The bad thing was breakfast stopped at 9 anyway… Well… then we were "awake" for our first game again XLR8S (sorry, Radioative Mr Burns)!
It went smoothly… Was the opponent team more tired than us? And a bit less experienced. We ended first of the pool and had to play the last of another strong pool which was … The White Foxes! The rematch was even more pleasant than the first one and a clear victory for the foxes this time. No chance to get to the 5th place… Let's try the 9th then.
After a long break we played Positive vibrations, a French team (we did speak English for the circle though…). We started ok but had a loss in concentration, energy (both?) in the middle. Catching up at the end but it was not enough to take the victory. We lost by 1 point.
So playing for the 11th place. And another French speaking team, Mixte Soupe. This one was tough, we were tired but we managed to trade points until the end and won the last point!
To summarise, we got 11th place, glowing smiling faces (and arms and neck!), glimmery vibes, radiating beers and pindakaas sandwiches and a good night of sleep on Sunday night. A brilliant weekend!!
Thank you DDT, thank you Vertigo, it was FUN!!… Can't wait for the next one, both tournament and LED 2020!
Stéphanie